Fein Slugger power feed magnetic drill
Fein Power Tool will introduce several new products at STAFDA 2013 booth 834-836.
---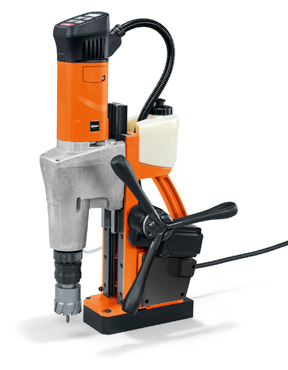 Taking center stage will be the new Slugger JCM 200 Auto, a two-speed, fully automatic power feed magnetic drill that will cut up to 2″ diameter, 2″ D.O.C. holes using Slugger Carbide annular cutters in its QuickIN tool holder system. At just 35.7 lb., it is the lightest 2″ diameter capacity power feed drill available today.
Also new is the Slugger JHM "ShortSlugger", a 22 lb. compact workhorse that will drill up to 1-3/16″ diameter, holes 2″ D.O.C., specially priced as a starter drill.
Other Slugger magnetic drill improvements include unique double dovetails that provide a 12.4″ stroke with no rigidity loss for fast, easy installation of accessories such as tapping units. A new QuickIN adapter for Slugger magnetic drill models that take #3 Morse taper tool holders will allow them to use both carbide and HSS annular cutters.
Fein will also introduce a new, cordless, hand-held, four-speed portable hand drill that has all the power needed for contractors.