Milwaukee Locking Pliers
Milwaukee Tool introduced several new locking tools that dramatically increase productivity for the user.
---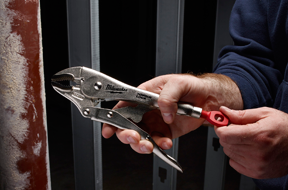 Featuring a patent pending Torque Lock adjustment system, the new Milwaukee Locking Pliers and Locking C-Clamps deliver an innovative solution for adjusting the size of the gripping jaws while secured to material. This gives the user the ability to produce maximum locking force with a much faster and controlled set up.
"As we spent time on the jobsite investigating this category, we found that many users were modifying their locking tools by welding a loop on the back end of the thumb screw. This created a way to setup their tool faster and produce the necessary holding force with a screwdriver," says Ryan Schwoegler, Product Manager for Milwaukee Tool. "Inspired by this inventive user modification, our TORQUE LOCK Locking Tools feature a thumb screw with a more convenient geometry for hand force and a unique screwdriver through-hole design to produce maximum locking force."
Each tool also features hardened jaws for more gripping power on jobsite material, and is made from chrome plated forged alloy steel for maximum durability and rust protection. A traditional release lever design provides further jobsite functionality and convenience for increased productivity.
Backed by a limited lifetime warranty, the new products confirm Milwaukee's commitment to best-in-class durability and their relentless commitment to provide innovative solutions to the end user that will increase productivity.