Pelican ProGear rechargeable LED flashlight
With a variety of uses in mind, Pelican Products Inc. introduced the Pelican ProGear 2380R rechargeable LED flashlight.
---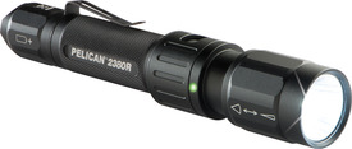 The lightweight rechargeable LED flashlight weighs in at 6.6 ounces with batteries and provides extreme versatility. Using Fraen patented dual reflector optics its Slide-Beam technology provides a spot to flood beam instantly. The flashlight is the perfect compact lighting solution for a wide variety of users including law enforcement, military and outdoor enthusiasts.
With three modes: high (305 lumens), low (30 lumens) and strobe, the Pelican ProGear 2380R LED is powered by a lightweight and efficient rechargeable lithium ion battery and shines a bright, crisp beam for 3 hours and 30 minutes in high mode. For extended use, up to 25 hours of run time is available in low mode. A battery canister is included that will accept two disposable CR123 lithium batteries to allow for alternative or extended use.
The flashlight features a full-time battery level indicator: green (100%-75%), amber (74%-50%), red (49%-25%) and red flashing (24%-0%). It includes a micro-USB charging cable which allows it to charge from a computer, USB wall adapter or any USB vehicle power port.
The Type II Hard Anodized aluminum construction makes it extremely durable and the anti-slip knurled pattern allows for all-weather usage. Additionally, the Pelican ProGear™ 2380R LED offers a removable clip for easy pocket storage and transport.