BORA's Spirit Level offers precision and accuracy
BORA, a product division of Affinity Tool Works, introduces its updated line of Spirit Levels.
---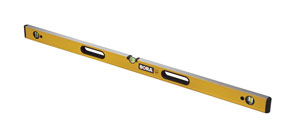 Featuring a functional design and rugged construction, the levels are intended for even the most demanding environments and jobsites. Available in nine sizes ranging from 16 to 96 inches, the Spirit Level line provides a complete offering that is ideal for a variety of industries including masonry, building trades, general construction, remodeling, and finish and rough carpentry.
Each model is designed with numerous industry-exclusive features to ensure product accuracy. Built with a state-of-the art vial setting, the Spirit Levels guarantee lifetime precision. The center vial is magnified for enhanced visibility and improved readability. Highly pliable internal reinforcement bars have been stress-pressed in and set in epoxy resin. This allows for the highest degree of vial accuracy, regardless of jobsite abuse and being dropped.
The advanced construction also features a heavy-duty exterior made of aircraft-grade structural alloy steel. Able to withstand tough workshop wear, the vials are protected by UV- and scratch-resistant acrylic. Slip-resistant wall pads and rubber-coated handgrips complete the durable design.