Blacoh sanitary flow through dampener
Blacoh Fluid Control recently announced a new sanitary flow through dampener specifically designed for hygienic applications that require clean-in-place components.
---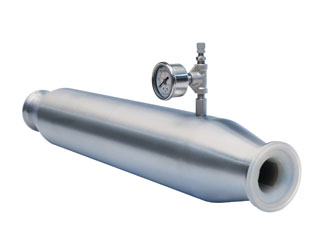 Part of the Sentry line of pulsation dampeners, inlet stabilizers and surge suppressors, the inline flow through design of the new Sentry CIP dampener eliminates product holdup while the self-draining single body construction allows for easy clean-in-place and simplified maintenance. The flow through design is also gentle on delicate products, and ideally suited to handling slurries and viscous fluids.
What is most unique about the Sentry CIP dampener is the patent pending tube bladder design with internal ribs to prevent collapse under pressure. This new bladder replaces other designs with perforated tubes that can collect and trap particles. Made of USP Class VI pharma-grade silicone, the ends of the Sentry CIP's tube bladder are molded to connect directly to pipe and seal with Tri-Clamp fasteners, eliminating the need for separate gaskets. Constructed of 316L stainless steel with 2.5 inch Tri-Clamp connections, the single body Sentry CIP damper is available in adjustable or chargeable air controls. Normally installed in a horizontal position, an end cap option allows for vertical mounting.