CGW surface conditioning belts
CGW-Camel Grinding Wheels introduced a line of USA-made surface conditioning belts designed for work in wet or dry applications including cleaning, finishing, blending and deburring.
---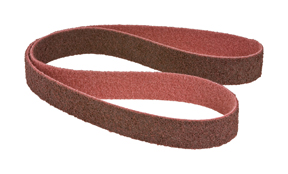 The surface conditioning belts are made with a wide-open structure to ensure they resist loading and run coolly. In addition, the belts provide a linear grain scratch pattern for blending stainless steel welds and are designed to prevent gouging and undercutting.
The line consists of two styles of backings, X-flex and low stretch. The X-flex backed belts, for hand held tools, are made with an increased amount of flexibility to reduce the probability of cracking. The low stretch backed belts, intended for stationary machines, are made for reliable dimension holding and do not stretch.
All CGW surface conditioning belts are available in brown [coarse] 120 grits, maroon [medium] 180 grits and blue [very fine] 320 grits. Dimensions range from 1/4- by 18-inches to 6- by 48-inches.
"CGW surface conditioning belts are converted with new state-of-the-art splicing technologies to ensure a high quality experience for our customers," said Joe O' Mera, president, CGW-Camel Grinding Wheels.