CRC launches food grade industrial oils and greases
CRC Industries announced the availability and launch of its newest product line, Food Grade Industrial Oils & Greases.
---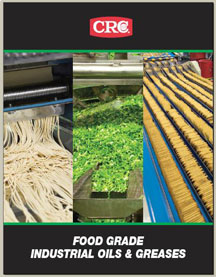 These functional fluids and greases include bulk compressor oils, hydraulic oils, gear oils, chain lubes and greases.
These new products are NSF H1 Registered and Kosher Approved, and the line includes both synthetic and USP grade white oil formulations. With 200 approved products, CRC now has more NSF registered products than any competitor. CRC's commitment to help minimize risk and cost and maximize regulatory compliance in the food industry continues with the StopLight Food Safety Program, which focuses on minimizing the risk of food contamination from maintenance chemicals across all food processing areas.
For additional product details, reference CRC Food Grade Industrial Oils & Greases Brochure (reorder #I0329-BR) at www.crcindustries.com/ei.