Carlon PVC Conduit Repair System
Repairing broken polyvinylchloride (PVC) conduit is no longer an arduous and time-consuming task with the new Carlon PVC Conduit Repair System from Thomas & Betts.
---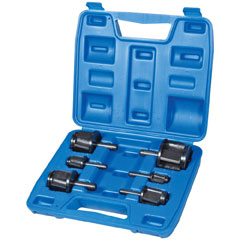 The exclusive, patent-protected design allows contractors to maintain the inside diameter of the conduit, reducing repair time from 20 to less than two minutes.
"The system includes couplings, adapters, reamers and plugs designed to repair broken PVC conduit, or 'stub-ups,' quickly and easily," said Pam Pagenkopf, product manager for Thomas & Betts. "It is the most cost-effective repair method available today. The Carlon PVC Conduit Repair System offers time and labor savings, and eliminates the often-times frustrating task of chipping away and re-pouring concrete around the conduit."
To repair PVC conduit with the system, simply cut off the broken conduit, ream the inner diameter and insert a coupling or adapter. The system is available in sizes from one-half inch through two inches. The system's nonmetallic couplings, adapters and plugs will not rust or corrode.
The Carlon PVC Conduit Repair System is UL and c-UL listed. Its PVC fittings are in accordance with the NEC and Section 352.6.