Cleco 19 Series screwdrivers
Cleco announced the launch of its new 19 Series screwdrivers.
---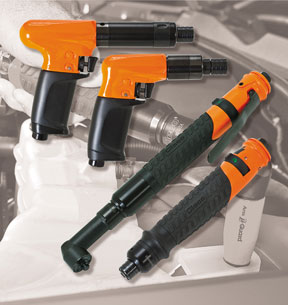 The Cleco 19 Series features a new Clecomatic clutch that delivers unparalleled repeatable accuracy, exceeding a Cm of 2.0 with a tolerance of ±10% for the most demanding aerospace, automotive and industrial applications. The screwdrivers, available in right angle, inline and pistol models, are designed with advanced materials that yield up to a 19 percent weight reduction with no loss of balance or durability.
"The 19 Series screwdrivers are designed to be the most accurate, longest lasting and user-friendly on the market," said Jackson Wang, product manager for Cleco. "We believe that these new tools also add value by providing our customers with the sustained power to get the job done right the first time, every time."
An adjustable reverse lever, located near the trigger, provides one-hand operation and adaptability for both left- and right-hand users. Two interchangeable soft-touch handles accommodate a wide range of hand sizes, providing even more opportunity to reduce operating costs, while improving ergonomics and helping reduce fatigue. End users will appreciate the easy-to-access torque verification port, which is parallel to the main air line, and provides streamlined air management.