Yale Cable King electric wire rope hoist
Columbus McKinnon has made its popular Yale Cable King electric wire rope hoist available as a Quick Ship hoist.
---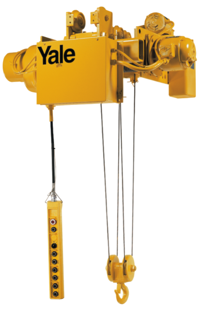 Available in two Quick Ship configurations – a 5-ton and 10-ton model — these Yale Cable King hoists have been engineered for shorter lead times and broad appeal, while living up to our own tough standards of dependability and durability. Lead time on the two Quick Ship hoists will be just four to six weeks.
In addition to the two pre-configured Quick Ship models, the Cable King hoist will also remain as a fully customizable hoist with standard lead times. All Cable King models are available through the Columbus McKinnon network of crane builders and distributors.