DEWALT 7 1/4-inch Circular Saw
DEWALT announces the launch of a completely redesigned 7 1/4-inch Circular Saw (DWE575), one of the lightest circular saws in its class, which will also be offered with an Electric Brake and Kit Bag (DWE575SB).
---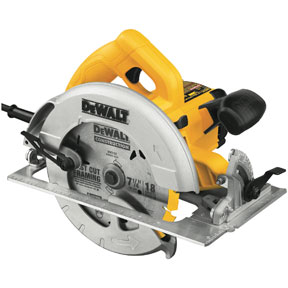 The saw is ideal for framers, concrete formers, general contractors and remodelers who are tasked with completing applications ranging from framing walls to cutting plywood, siding, exterior finishing and more.
"As technology improves, contractors are constantly looking for tools that offer more power in a smaller package," said Ivonne Meza, product manager, DEWALT. "When it comes to circular saws in particular, our field research proves that professionals are also looking for a saw that delivers balance, comfort and smoothness of cut. Throughout the development of our new saws, we kept these requirements in mind to design the products that contractors have requested."
Weighing only 8.8 pounds and measuring 7.2 inches in width, the DWE575 is one of the lightest circular saws in its class. Despite its small size, the unit delivers plenty of power to perform some of the most demanding applications with 1,950 Max Watts Out (MWO) and 5,100 revolutions per minute (RPM).