Dynabrade vacuum disc sanders
Dynabrade introduced a new series of air powered Vacuum Disc Sanders.
---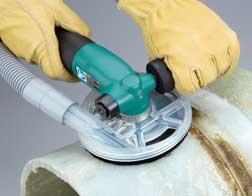 This new tool offering allows for efficient coatings removal with the capture of the actual contaminants to the vacuum source.
This new tool line features 2", 3", 5" and 7" diameter vacuum sanders for smooth, controlled operation. The Unique Vacuum Shroud of each tool diverts dust and debris to the vacuum source. The right angle design of each tool features a rubber over-mold on the housing for smooth operation and less vibration to the operator.
Each tool powers Abrasive Discs for efficient material removal on non-ferrous surfaces such as carbon fiber, fiberglass, painted aluminum and more. As the tool is sanding, the Flexible Vacuum Shroud captures dust, debris and contaminants including Hexavalent Chromium to the vacuum source – ensuring a cleaner, safer workplace.
The 2" and 3" tools are available in two vacuum styles: A Self Generated Vacuum model, in-which the tool's exhaust directs contaminants to a portable self-contained vacuum system. A Central Vacuum model is available for connection to external or central vacuum systems. The 5" and 7" models are available in Central Vacuum models only. These are essential vacuum tools for aerospace, automotive, marine and transportation industries.
Additional vacuum products are available including Portable Vacuum Systems and Downdraft Tables. Made in the U.S.A.