Dynabrade general line catalog
Dynabrade introduced its new General Line Catalog showcasing its line of industrial power tools, accessories and abrasives.
---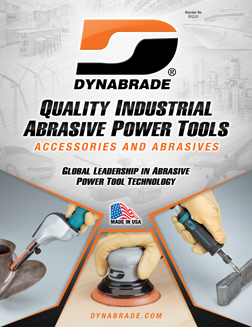 This is the largest and most comprehensive publication in the history of the company. Totaling 316 pages, this full-color catalog encompasses over 800 tools.
This new catalog introduces a new format and organization, designed for enhanced clarity and ease of use. The new features include an "Add-On-Cart" which points the reader to the proper accessories. An "Abrasive Capacity" Box directs the reader to the right choice of abrasives for the power tool. This helps eliminate wasted time searching for the right items.
This new catalog also features various QR Codes. When scanned with a mobile device, it provides instant access to the Dynabrade Website and tool videos. This allows the user to see the tools at work, all on your mobile device.
A Systems and Solutions page is also featured throughout the catalog. This allows the reader to review top-selling combinations of Dynabrade tools, abrasives and accessories. This is a very convenient way of documenting a total systems approach.
This new catalog is divided into tool categories for easy reference. Sections include Abrasive Belt Tools, Finishing Tools, Die Grinders, Disc Sanders, Grinders, Buffing Tools, Drills, Random Orbital Sanders, Source Capture Systems, Accessories, Abrasives, and more.