Dynabrade DynaPen air tools
Dynabrade Inc. introduced the new DynaPen series of air tools.
---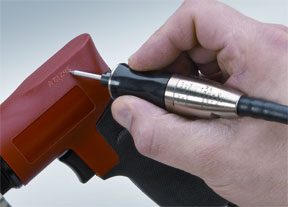 The DynaPen accepts multiple accessories for engraving, precision removal and deburring.
The DynaPen is a lightweight pneumatic tool that operates at 14,000 strokes per minute. Featuring an easy one-touch on/off button and 6 foot air line, the tool is available with either a 1/8" or 3 mm collet insert. The air line swivels 360° for greater maneuverability, especially on contoured parts. An in-line filter prevents debris from entering the tool from the air line, ensuring longer tool life.
This series of tools is offered in several Application Focused Kits. A DynaPen Filer Kit, which includes an assortment of popular files. The DynaPen Scribe Kit includes a Scribe Point for engraving. A DynaPen Chisel Kit is also featured which includes narrow and wide chisels. Or, the DynaPen Kit, which includes Files, Scribe Point and Chisels, allowing the ultimate in versatility.
Combining rapid action with short stroke length, the DynaPen is used on plastics, composites, steel, aluminum and other materials. Ideal for use in Aerospace, mold making, firearm, machine shops and other industries where precision engraving and deburring is required. Made in the U.S.A.