Eaton app PowerSource
With the new Eaton app PowerSource, Eaton distributors can now search, spec and sell smarter and faster than before.
---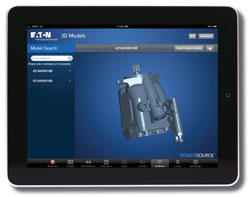 By providing virtually instant access to in-depth and up-to-date information on Eaton's more than 200,000 hydraulic products, PowerSource gives the Eaton sales and distribution teams a competitive edge and dramatically enhances their ability to respond quickly to customer needs and reduce buying cycle time.
"PowerSource supports customers' speed-to-market initiatives," said Scott Pharis, Eaton channel marketing manager. "It puts everything our customers need onto today's most contemporary platform, reflecting the same commitment to innovation that characterizes the Eaton technologies that help them manage power more efficiently, effectively and safely."
PowerSource takes full advantage of the iPad's functionality, viewing modes and multi-paned touch navigation to deliver product literature, competitive cross-references, training and product videos, company news and more. Features include:
Current technical specs and ordering lead times on more than 200,000 Eaton products
More than 40,000 crimp specs, available by product line, hose series, hose size and fitting size
Fast and easy competitive parts cross-referencing Intelligent configuration so complicated assemblies can be easily specified and priced
3D modeling, allowing parts to be viewed from any angle
A search function for parts by product type, product line or application requirement
Local data storage that updates automatically every week
A news feed on the latest new products from Eaton
A GPS function that instantly locates the nearest Eaton sales representative or distributor