Eaton Everflex E-Series hose fittings
Eaton Corporation expanded its Everflex E-Series line of one-piece, crimp-type hose fittings.
---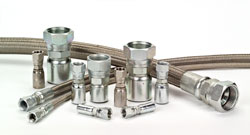 When coupled with Eaton Everflex hoses made from Teflon resin, these new fittings allow customers to achieve up to 33 percent higher operating pressures than current Eaton and competitive hoses. The new E-Series fittings and the higher pressures have been validated on Eaton's 2807, FC465, S-TW and SC-TW series hoses.
"The additional hose fittings, new material and higher operating pressures will allow our distributors to offer hoses made with a Teflon coating into a broader range of difficult applications," said Eaton product manager Steve Case. "The one-piece design of these fittings reduces inventory requirements by half, and reduces assembly time by 20 percent. They can be flat crimped on existing equipment; this means that for most customers there is no additional tooling investment required. Assemblies using these new fittings are available from our distributors. This product line enhancement is the latest result of Eaton's effort to continuously improve the Everflex product offering."
The expansion adds new sizes to the existing carbon steel fitting offering and introduces stainless steel fittings to the portfolio. These fittings are available in both male pipe and female 37º swivel end configurations in both materials. The carbon steel offering now includes hose fittings for -8, -12 and -16 size hoses, which complement the existing -4, -6 and -10 size hoses. The new stainless steel offering covers -4 through -16 size hoses.