Emuge TiNox-Cut
Emuge Corp. introduced TiNox-Cut, a new series of end mills specifically developed to provide exceptional material removal rate and long tool life when machining today's toughest materials.
---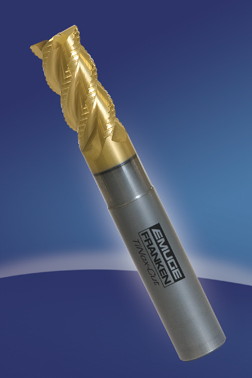 New Emuge-Franken TiNox-Cut End Mills offer a high performance cutting solution for nickel alloys such as Inconel 718, Nimonic and Waspaloy, Titanium 6Al-4V, and tough steels like Stainless 316 - materials used extensively in aerospace and other demanding industries.
"The need for parts and components machined from these materials is on the rise, but they are very difficult to machine and wear out tools fast," said Peter Matysiak, president of Emuge Corp. "TiNox has a unique variable flute spacing and a serrated chip breaker profile along the cutting edge that provides unmatched material removal rate and impressive RA values for both roughing and semi-finishing, while producing minimal tool wear."
TiNox's dynamic flute and proprietary cutting edge design, combined with a high heat-resistant multi-layer TiN / TiAlN coating provides exceedingly long tool life by minimizing friction / vibration and efficiently evacuating shorter chips, which is especially important in tough, long-chipping materials. In addition, the tools are made from a special ultra fine carbide grade to further maximize wear resistance.