Flexaust Flex-Tube PU outdoor transfer hose
Flexaust introduced a flexible polyurethane hose that provides a lightweight alternative to conventional heavier hoses used in long lengths for bark mulch blowing applications.
---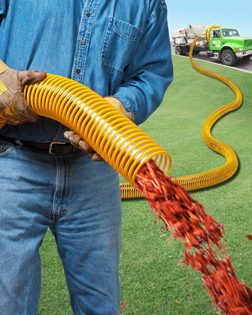 Flex-Tube PU Outdoor Transfer Hose is a coextruded all plastic hose that features urethane construction with a smooth interior and a drag-resistant spiral ABS helix wear strip. Easier for workers to handle in long lengths than conventional hose, it is 80% lighter (4" hose is 0.75 lbs./ft.) and 33% more flexible (6" CL bend radius), making it ideal for blowing bark mulch.
Available in standard 4", 5" and 6" I.D. sizes and 50', 75' and 100' lengths, Flex-Tube® PU Outdoor Transfer Hose is clear with a yellow helix. Operating over a -40°F to 200°F range, this urethane bark mulch blowing hose remains flexible in colder temperature for early spring and late fall clean-ups. OEM color matching of the wear strip and cuffs are optional.