Rip-R-Stripper for tough floor-covering removal projects
General Equipment Company introduced the CTS12 Rip-R-Stripper for floor-covering removal projects.
---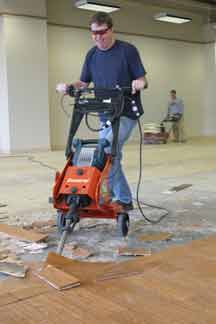 This new machine offers a fresh solution to the old problem of removing ceramic tile, hardwood floor and other tough floor coverings. Even more, it allows rental operators to make more revenue from the electric-powered breakers in their inventories.
The CTS12 acts as a tool carrier for electric-powered breakers with ratings between 30 and 45 foot-pounds of force. This includes popular models of Hilti, Bosch, Makita and Hitachi breakers. Unlike the random orbit-type tile stripper machines currently on the market, the CTS12 provides a direct-impulse force, which supplies adequate power to break through the high bond strengths of today's mastics, glues and thin-set materials.