General Tools & Instruments cordless engraver
With the new Cordless Precision Engraver (Model #505) from General Tools & Instruments, users can protect all types of valuables with identifying markings, and even perform delicate personalization of items.
---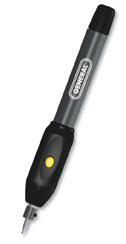 Professional woodworkers and hobbyists can use the engraver to sign their works of art. This precision specialty tool enables engraving anywhere by anyone—from professional technicians and mechanics to homeowners and DIYers.
Designed in-house by General's engineering team, the Cordless Precision Engraver uses a 3/32 in. diamond-tipped engraving bit (included). Its powerful 20,000 RPM motor is powered by just two AAA batteries and enables engraving in wood, glass, metal, ceramic and plastic. An aluminum body offers superior durability while the one-of-a-kind tri-lobe ergonomic grip provides the ultimate in comfort and ease-of-use.