enMotion automated touchless soap dispenser
Seventy-seven percent of consumers believe that touchless soap dispensers improve the overall image of the restroom.
---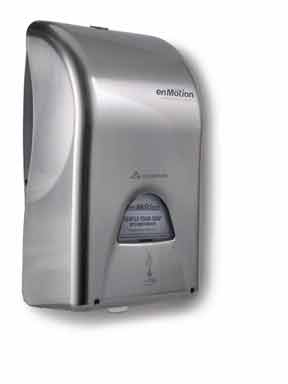 To help facility managers meet these washroom expectations, Georgia-Pacific Professional has added a brushed stainless design to the family of enMotion automated touchless soap and sanitizer dispensers. When paired with the enMotion foam soap and sanitizer products, users experience fast response, no-touch dispensing to help minimize cross-contamination risks.
"For a decade, Georgia-Pacific Professional's enMotion dispensers have contributed to more stylish, innovative and sustainable hand hygiene solutions," said Alison Lukacsko, vice president and general manager skin care - Georgia-Pacific Professional. "With its sleek new brushed stainless design, the enMotion automated touchless soap and sanitizer dispensers help enhance the image of any facility and provide the perfect complement to our other brushed stainless offerings such as the enMotion recessed automated towel dispenser and Compact bath tissue dispensers."
The enMotion automated touchless soap and sanitizer dispensers feature an adjustable portion control setting of 0.4 mL and 0.7 mL that helps provide cost savings through prolonged product life and reduced maintenance visits. Georgia-Pacific Professional offers three product types for use in the dispensers: enMotion gentle foam soap with moisturizers, enMotion antimicrobial foam soap with moisturizers and enMotion foam hand sanitizer with moisturizers. Each corresponding product is formulated with aloe and other conditioners to help protect against dry skin typically associated with frequent hand washing and comes in a hygienic closed system to minimize the risk of bacterial growth.