GOJO Eco Soy Foaming Hand Cleaner
GOJO introduces GOJO ECO SOY Foaming Hand Cleaner, a foam-style, soy-based formulation that gently and effectively removes moderate soils from hands.
---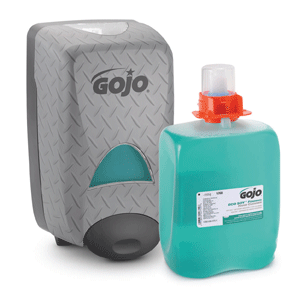 The dermatologist-tested product can be used with or without water.
GOJO ECO SOY Foaming Hand Cleaner is a grit-free foam formulated to gently remove dirt from hands without the use of aggressive solvents or abrasives. The pre-lathered foam rinses easily while its invigorating fresh scent appeals to both men and women.
"Industrial environments can present a wide range of soils. Usually, regular restroom soaps aren't effective in removing the dirt," said Diana Costanzo, marketing director for automotive/manufacturing at GOJO. "GOJO ECO SOY Foaming Hand Cleaner cleans better than a general restroom soap but is not as aggressive as typical heavy duty hand cleaners with grit."
GOJO is committed to developing products that help technicians and other workers in tough soils environments maintain skin health. GOJO ECO SOY Foaming Hand Cleaner is available in the NEW GOJO DPX wall-mount dispenser with a high-capacity, 2000 mL refill. The attractive diamond-plate design of the GOJO DPX dispenser looks great and stands up to the toughest environments.