Hamilton Ultra Maxi-Duty Caster rated up to 40,000 lbs.
Hamilton Caster introduced the new Ultra Maxi-Duty (UMD) Caster Series with a load rating up to 40,000 lbs. per caster.
---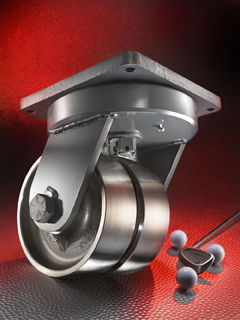 This new series represents the highest capacity production caster series on the market today. Save the time of designing a special caster and select from the new UMD's comprehensive, "build-ready" series. Moving colossal loads that formerly required six or eight casters can now be accomplished with four, simplifying designs and lowering maintenance costs. The new UMD Caster Series targets heavy equipment and aerospace manufacturers, defense contractors, and ship builders.
Hamilton engineers started with a clean slate and went above and beyond basic durability requirements. The mounting plate is an immense 14" x 14" and 1" thick. The innovative main load bearing assembly has two massive precision thrust bearings for smooth swiveling. The first thrust bearing is 13" in diameter and boast an impressive 234,000 load rating. The second thrust bearing is 7" in diameter and is rated at a comfortable 100,000 lbs. A third 1-1/2" highly specialized four point contact bearing completes the assembly and combines with the thrust bearings to provide incredibly easy swiveling and durability under extreme loads. Three robust wheel types are offered in the series: Poly Press-On, forged steel, and Nylast (high capacity cast nylon). The new series is offered in both single wheel and dual-wheel versions and all models are backed by Hamilton's industry-first three year product warranty.
COMMENTS: 0
---