Hougen Copperhead Carbide Tip Annular Cutters
Hougen Manufacturing expanded its line of the popular Copperhead Carbide Tip Annular Cutters, with more sizes and depths.
---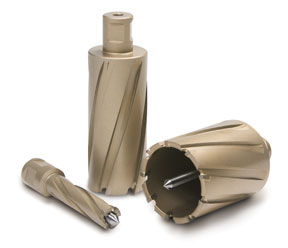 The Copperhead Cutters are now available in diameters up to two inches and in depth of cuts from two, three and four inches. Hougen's Copperhead Carbide Tip Cutters provide greater wear resistance and more holes-per-tool productivity in high Brinnell hardness alloys or abrasive materials like cast iron. Their special tooth geometry and full length flutes helps maintain superior chip flow over other styles of carbide tipped cutters.
Copperhead Cutters are available with two different styles of shanks. The standard two flat shank fits most magnetic drills and can be used with drill presses and machining centers with appropiate spindle adapter. The newer Copperhead Fusion Cutters have Fusion Groove Innovation shanks for use in magnetic drills having tool-less arbors. This reduces setup times and further boosts Copperhead's already superior productivity. The cutters also have two 90-degree set screw flats to fit magnetic drills with standard arbors providing up to two times the tool life of tool-less systems. Copperhead Cutters' toughness and durability is enhanced by a special surface treatment which gives them their distinctive color, hence the "Copperhead" designation. Cutters are available individually or the most popular sizes are available in kits.