Hyde in-stock machine blades
The line of in-stock machine blades for industrial belting fabrication and rubber converting operations from Hyde Industrial Blade Solutions (IBS) has been expanded recently to ensure quick delivery to the trades.
---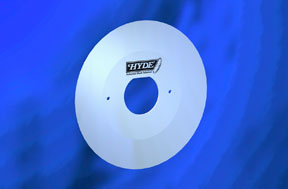 Whether one is cutting rubber, plastic or composite materials, Hyde blades make short work of automated slitting and cutting processes to increase productivity and reduce waste on the shop floor.
Hyde's new stocking program offers ten (10) slitter blades for industrial belting and rubber fabricators. These blades are made of Chrome Vanadium or M2 steel in a variety of diameters to fit most slitting equipment. Hyde's full line of circular machine blades is available in a wide variety of stocked configurations covering all of the industry's most common specifications.