Hyde tire and rubber blade brochure
A new four-page brochure introducing Hyde Industrial Blade Solutions' (IBS) Tire and Rubber blades and knives is now available for download at www.hydeblades.com.
---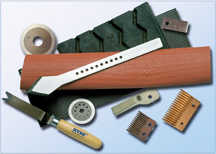 Whether it is cutting tires, belts, mats or any type of rubber parts, professionals will be able to select from a variety of knives and blades, which will assist in an increase of productivity and waste reduction.
Within this brochure, rubber industry professionals will find a line of blades and knives that are engineered to withstand and efficiently perform day-to-day tasks, and are manufactured in facilities with ISO 9001:2008 plant certification. To ensure this high quality, Hyde employs a proprietary process in blanking, laser cutting, heat treating, grinding and polishing for maximum cutting performance of each blade. Specifically for the rubber industry, Hyde IBS designs blades and knives that are matched to each cutting application to maximize blade performance, and will offer portability and flexibility when cutting rubber on the shop floor.
The four-color brochure also contains helpful tables and listings of an assortment of Hyde IBS' Tire and Rubber blades and knives including Skiver Blades, Bias Cutters, Calendar Blades, V-Trim Knives, Mill Blades and many more. An easy-to-read index helps users find blades by types. Readers will also find handy reference materials within the brochure that will assist them in customizing their tools based upon their preferences.