Hyde V-Tooth Serrated Straight Blades
Hyde IBS announced that its new V-Tooth Blade is now available.
---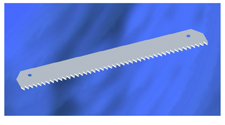 For cutting in food processing applications or through the toughest vacuum-sealed packaging, new V-Tooth Serrated Straight Blades from Hyde Industrial Blade Solutions (IBS) slice cleanly through foam, rubber, plastics, fabric, plastic films and foods to deliver crisp cuts time after time, production run after production run.
Designed for Food Processing, Converting, Foam, Rubber, Plastics and a myriad of
Packaging manufacturing applications, the extra-sharp Hyde IBS V-Tooth Serrated Straight Blades reduces waste resulting from the tearing and crumbing of products. Also known as guillotine blades, these blades are designed specifically to cut through a wide range of soft to medium-firm products and materials. They can be used across a wide range of cutting applications from slicing bread or creating packaging for the latest computer tablet.