Hyde Hose Hog Circular Blades
Hose Hog Circular Blades from Hyde Industrial Blade Solutions (IBS) improves cutting effectiveness through wire-reinforced hose and tube materials by introducing more blade surface area into the cut.
---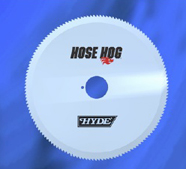 Employing proprietary engineering designs and manufacturing processes, these blades are toothed and beveled on both sides of the blade to deliver smooth cuts time after time.
Made of tough M2 high-speed steel, the new Hose Hog Circular Blades are designed
to cut the strongest materials including tough wire-reinforced hydraulic hose in automated
manufacturing operations. Unlike abrasive wheels, which hack a path through materials and generate heat, smoke and debris that can contaminate hydraulic cutting systems, these blades slice cleanly through the work resulting in little to no clean up after the cut.
This next generation of Hose Hog Circular Blades incorporates a thicker blade design
to promote longer life and consists of an expanded range of blades measuring 7", 8", 10", 12" and 14" in diameter in a variety of stocked sizes including the popular 10" x 1.575" x .125" model used by professionals in the fabricating industry.
The full line of Hose Hog Blades is also available with "double bevel" or "wavy scallop"
edges offering versatility to fabricators for their specific manufacturing requirements. While the bevel edge blades offer the versatility of cutting all types of hose, the wavy scallop edge blades are designed to cut any hose containing a significant amount of steel.