Hyde Score Slitter Blades
Hyde Industrial Blade Solutions (IBS) offers a full line of blades designed to cut and finish rolls of paper, film and foil, corrugated materials, textiles and abrasives down to size.
---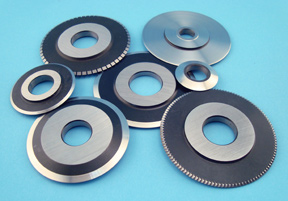 Hyde's Score Slitter Blades, complemented by a line of Perforator Blades for finishing products, are engineered to provide clean cuts consistently when taking materials down to sheets.
Also known as "crush cutters," Hyde's Score Slitter Blades convert rolls of materials into sheets or smaller sections via a crushing versus cutting action. These blades are designed to exacting Original Equipment Manufacturer (OEM) specifications for replacement on machinery brands such as Appleton, Arpeco, Arrow, Ashton, Baldwin-Gregg, Cameron, Coretech, Didde-Glaser, Dusenbery, Goss, Johnstone, Kidder, Schreiber, Tidland and Western Gear among others.
Manufactured most commonly of 52100 steel, an extensive array of blades in a variety of outer and inner diameters, thicknesses and angles are available in stock at Hyde. These blades can be also constructed of other alloys such as D2, M2 and stainless steel. Hyde blades are ground on proprietary custom grinding machines to provide the highest quality and consistency in operation and are re-sharpenable for longer-life and reuse.
All Hyde Perforator Blades are made to order based on the tie length, cut length and number of teeth required for the application. These blades feature machine-ground notches, which are more consistent in shape than laser cut or milled notches and are available in 1" to 15" diameter tooth configurations with notches as small as .005".