SCRUBS Green Wipes Minimize Environmental Impact
ITW Dymon introduced SCRUBS Green Cleaning Wipes for hard surface cleaning with environmental advantages.
---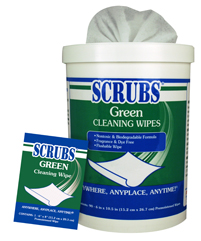 The ready-to-use Wipes are saturated with a fresh, non-toxic, biodegradable, non-flammable formula proven effective in removing soils from water-safe surfaces.
The generous 6x10.5" smooth white wipes contain no dyes, disperse in water and are flushable. The wipes deliver a measured amount of cleaning formula, eliminate mixing or diluting, and prevent overspray and dripping common with aerosol and bulk cleaners.
SCRUBS Green Cleaning Wipes are available in single packs and in a 90-count canister that is 100% recyclable. An accessory steel bracket mounts on the wall to securely hold the Wipes canister for convenient dispensing near work and break areas. Single packs provide convenience and portability for off-site cleaning.