JGB Unveils 'The Perfect Water Hose'
They say nothing lasts forever. But a revolutionary new crush-proof and kink-free water hose called Tuff-Guard comes very close with its limited lifetime guarantee.
---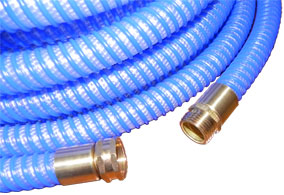 Tuff-Guard was developed and is now being marketed by JGB Enterprises of Liverpool, N.Y.
The new product is made of a unique three-layer design woven fiber core for strength. It has been tested to last many times longer than anything currently on the market. Made of TPE, the hose is easily identifiable by its coiled helix design blue-colored exterior. It is made to withstand and function in temperatures ranging from minus 20 degrees to 150 degrees Fahrenheit.
The working and burst pressures are 100 psi and 300 psi at 70 degrees Fahrenheit. The hose maintains flexibility at extreme temperatures.
The hose is not only very durable and wear resistant, but is 35 percent lighter than what has existed for generations. The new product is the result of five years of development and is being produced in the U.S.
Available in 25, 50 and 100-foot lengths, the hose will accommodate a maximum water flow. The internally expanded brass couplings offer flow rates comparable to ¾" hose on a 5/8" hose and unique ferrule design will not allow the couplings to separate from the hose.
Easy to handle, it is perfect for industrial wash down and construction sites.