Jackson Safety Realtree Camouflage welding helmet
Kimberly-Clark Professional introduced an ultra-lightweight helmet with a camouflage design from Realtree, a leader in outdoor camouflage gear.
---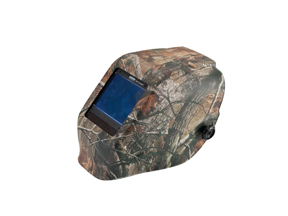 Jackson Safety Brand Realtree Camouflage Welding Helmet is rugged, yet weighs only six ounces. It features a Hydraflex Shell that helps reduce neck tension by providing maximum flexibility and durability. It's also protective and easy to wear.
"Realtree is one of the most recognizable brands within the outdoor market," said Kristy Giebe, Product Manager, Welding and Head Protection for Kimberly-Clark Professional. "Its camouflage patterns are extremely popular with North American sportsmen, making this helmet a natural choice for professional welders with outdoor interests."
The new Jackson Safety welding helmet is available in passive and Auto-Darkening Filter (ADF) lens options. Both provide excellent eye protection.
ADF helmets can greatly enhance productivity as well as comfort for end-users, according to a recent study. For instance, helmets with ADF lenses eliminate the need to "lift and nod" the helmet. Welders who use passive helmets spend three percent of the day "lifting and nodding." Use of an ADF versus a passive helmet can increase productivity by 12 minutes per day, per welder because of the time savings generated by not having to "lift and nod."
The Jackson Safety brand Realtree Camouflage welding helmet is available in two ADF versions. The WH60 Truesight Digital Auto-Darkening Filter meets ANSI Z87.1-2010 standards and is CSA Z94.3 compliant. The WH40 Professional Variable Auto-Darkening Filter meets ANSI Z87.1 standards and is CSA compliant.