Jackson Safety Nitrile Foam Coated Gloves
The Jackson Safety G40 Nitrile Foam Coated Gloves from Kimberly-Clark Professional have been improved to offer a host of additional benefits to industrial workers, including being washable and silicone-free.
---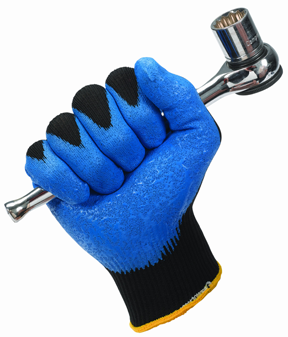 "These very successful gloves now offer many enhancements," said Veronica Savage, category manager for Industrial Gloves, Kimberly-Clark Professional. "End users have even told us they prefer our new G40 Nitrile Gloves two-to-one over its predecessor."
One visible change to the Jackson Safety G40 Nitrile Gloves is the color – the gloves are now blue instead of purple. With this change comes a new level of performance and quality that includes:
Better oil and industrial grease grip than the previous G40 Nitrile Gloves.The gloves are now washable and maintain EN388 ratings through at least five wash cycles. Eco-friendly packaging with no separate insert, no printed bags and less waste.Improved heat transfer stamp, so you can see the ratings even after glove use. There also is no shredding or tearing.Jackson Safety G40 Blue Nitrile Gloves are rated EN1149-2 Vertical Resistance.
Jackson Safety G40 Blue Nitrile Gloves are silicone-free and ideal for automotive and aerospace assembly, metal, glass and wood handling applications.