Knaack Crane Lift Accessory Kit
Knaack LLC introduces a new Crane Lift Accessory Kit (Model #497) to improve the mobility of jobsite storage equipment.
---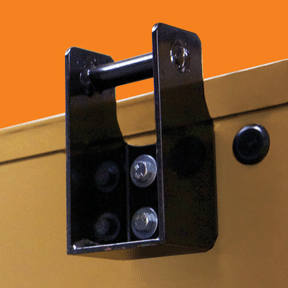 The kit works with the full Knaack product line to provide secure attachment points, enabling quick and easy strapping and hoisting of jobsite boxes.
After the one-time installation, the lift bracket system takes the guesswork out of tying and untying loads for moving, increasing productivity. Storage equipment weighing up to 2500 lbs can be lifted and carried safely with this tested and secure system. The kit features 4 heavy duty carbon steel lift brackets, mounting hardware, and installation instructions. Durability is enhanced with a weather-resistant, black enamel paint finish.
The Knaack Field Station (Model 119-01) has pre-punched holes to accommodate the lift brackets – other products require holes to be drilled. The kit is tested and approved only for Knaack jobsite boxes.