Lee Linear motion accessories
Lee Linear provides a complete line of engineered linear motion accessories to complete your customers' linear motion systems.
---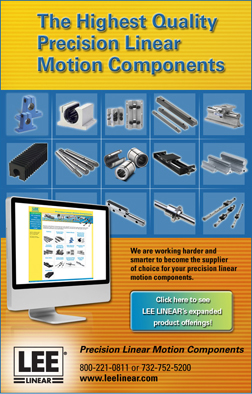 Over 40 years of linear motion expertise and craftsmanship goes into all LEE products providing distributors and machine builders a complete one-stop solution for all their linear motion needs.
''Lee accessories are designed for ease of use, maximum life, and optimal performance,' said Alan Haveson, Lee CEO.
LEE offers:
Carriage Plates assembled from cast aluminum jig plate, with or without mounted linear bearings
Shaft End Stops that prevent bearings from coming off the shaft
Bellows for shaft and bearing protection in contaminated environments
Easy-to-mount Linear Carriage Locks for rock solid positioning of linear slides and carriages
Motor Mount Blocks (NEMA Mounts) to easily couple motors, ball and lead screws to slides/carriages
Cast-Steel Shaft End Support Blocks only available through Lee
'Lee's accessories enhance our shafting and pillow block products to create ease of use and added-value,'' said Alan Haveson. ''At Lee Linear, we are committed to designing, manufacturing, and supplying only the finest linear motion control components and accessories in the industry.''