Lufkin P Series tapes
Lufkin announced its new Lufkin P Series tapes.
---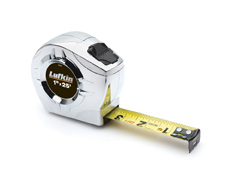 The P1000 and P2000 tapes are extremely accurate and durable tapes, making them ideal for tough industrial applications.
The Lufkin P Series tapes feature a new case, made of strong ABS plastic, which offers increased strength and improved impact resistance. The tapes fit comfortably in users' hands and feature a toggle blade-lock that allows for easy reach and a secure hold.
The Lufkin P Series tapes come in ½", ¾", and 1" widths. One-inch models have a nine-foot stand out allowing for efficient measuring. The protective clear-coat blades exceed American Society for Testing and Materials (ASTM) standards for abrasion resistance. Additionally, the patented Quad-Hook steel-reinforced four-rivet end hook resists wear and tear and provides longer tape life – making this a go-to tool for years to come. Lufkin tapes consistently exceed National Institute of Standards and Technology (NIST) standards in every category, so users can be confident their measurements are consistently accurate.
"The new Lufkin tapes are precision engineered for accuracy, and built to meet the toughest demands of industrial jobsites," said Tobias Bridges, product manager for Lufkin. "The P Series demonstrates Lufkin's commitment to product enhancement and excellence. The P Series is the strongest most durable tape from the Lufkin brand."
Lufkin P Series tapes are available in more than 40 width and length combinations and can be purchased in Hi-Viz orange with a rubber overmold grip or full chrome cases.