Lyon Workspace Products catalog
Lyon Workspace Products released its new Essential Solutions Catalog.
---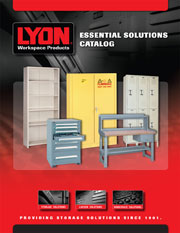 This 65-page catalog highlights the top selling storage, locker and workspace solutions. The full-color catalog features all-welded storage cabinets, lockers, workstations, ergonomic seating, shop furniture, tool storage, modular drawer cabinets, shelving and storage rack.
To order your Essential Solutions Catalog please log onto lyonworkspace.com. The catalog is also available on our website for downloading in a pdf version.