Makita releases two dust extraction tools
Makita has released two new dust extraction solutions for concrete and masonry contractors.
---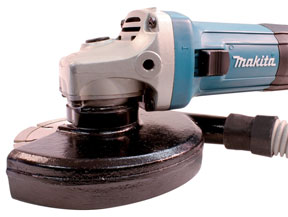 The new Dust Collecting Cutting Guards, for use with Makita 4-1/2" - 5" Grinders, are ideal for a range of concrete and masonry applications including tile cutting, concrete cutting, tuck pointing, and cutting expansion joints. When used with a commercial-grade vacuum system, the new guards are engineered to provide improved dust collection on the jobsite.
"Dust management is clearly on the mind of the pro contractor, and there is a growing demand for solutions to reduce the amount of concrete dust on jobsites," said Adam Livingston, Product Manager, Commercial Products. "Makita is an innovator in the category and we have already delivered dust collection accessories for use on rotary hammers and grinders. These two new cutting guards are the latest in our expanding line-up of dust management solutions."
New 4-1/2" - 5" Dust Collecting Cutting Guard (192618-2)
The new 4-1/2" - 5" Dust Collecting Cutting Guard is engineered for improved dust containment while operating Makita 4-1/2" - 5" grinders. The Guard has lightweight cast aluminum construction and weighs only .45 lb. with a large lip for stable plunging and a slim design for multiple uses. The guard has a direct-connection dust port for use with most commercial vacuum hoses. (Makita offers a ¾" x 10' hose, OD: 1-3/4", ID 1-1/2", for use with most commercial vacuums and hoses, sold separately.)
New 4-1/2" - 5" Dust Collecting Cutting Guard with Shoe (192972-4)
The new 4-1/2" - 5" Dust Collecting Cutting Guard with Shoe is engineered for improved dust containment while operating Makita 4-1/2" - 5" grinders. The Guard features durable steel construction, with "tool-less" depth adjustment and a large shoe for greater stability and accuracy. The Guard includes a hose adapter for increased versatility with standard fitment to most commercial vacuum hoses. (Makita offers a ¾" x 10' hose, OD: 1-3/4", ID 1-1/2", for use with most commercial vacuums and hoses, sold separately.)