Makita Brushless 18-Volt LXDT01 Impact Driver
The new LXDT01 features Makita brushless motor technology engineered to run more efficiently for over 50% longer run time per charge.
---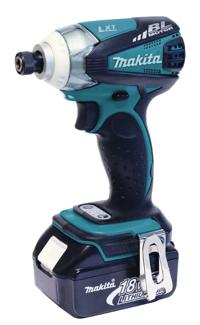 The innovative brushless motor also delivers more power and speed, and is engineered for less maintenance and longer tool life.
"Makita created cordless brushless motor technology in 2003 for the demanding standards of aerospace, defense, and assembly," said Brent Withey, Makita brand director. "Contractors want more run time and more power from their impact drivers, so Makita changed the game and brought brushless motor technology to the jobsite in 2009 with the BTD144. The new LXDT01 delivers even more performance with over 50% longer run time, more power, and less maintenance for longer tool life. Best of all, it's the first in what will be a growing line-up of brushless tools for pro contractors."
In field testing, the new Makita LXDT01 exhibited more power than Makita's 18V LXT Lithium-Ion Cordless Impact Driver, model BTD141. In a side-to-side test driving 1-1/4" coarse thread screws into 2x12 Douglas Fir, the LXDT01 with brushless motor technology drove 2,156 screws on a single charge, versus 1,148 for the market leader BTD141.
"Actual performance will always vary depending on working conditions such as weather and wood density. But without a doubt, these numbers show the advantage of Makita brushless motor technology," said Withey. "The benefit of this innovative motor design for pro contractors is clear, and you can expect more brushless motor solutions from Makita in the future, including cordless tools for drilling, fastening, and grinding."