Master Proheat Plastic Welding Kit
Everything needed for hot air welding a full range of thermoplastic materials is available in the new and convenient Master ProHeat Plastic Welding Kit Model PH-1400WK from Master Appliance Corporation.
---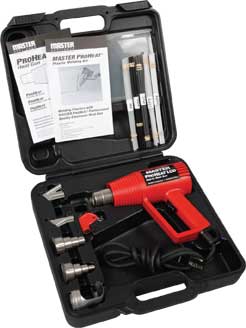 This self-contained, general purpose welding system makes for fast and simple fabrication and repair of rigid and flexible plastics, auto bumpers, tarps, liners, covers, tents, inflatables and more.
The Master ProHeat Plastic Welding Kit is built around the compact, lightweight Master ProHeat LCD Model PH-1400 Dial-in Electronic Heat Gun. The heat gun's dial-in feature offers 10 degree increment temperature control from 130°F to 1,000°F (50°C to 540°C) and control of airflow from 4 to 16 CFM (113 to 453 l/min).
The exclusive, innovative magnetic key lock-in feature makes it easy to "lock-in" proper temperature and airflow for each welding application. Once saved, they can be used again and again. An electronic control system also prevents over-heating when the heat gun is used with special welding attachments.
Each kit includes an instruction manual, five of our most popular attachments specially designed for welding applications that use heat and pressure: Speed welding, Pendulum welding and Tack welding, and a welding rod starter assortment for PVC, PP, ABS, HDPE and LDPE.