Milwaukee cable cutter
Milwaukee Electric Tool Corporation introduced the M12 600 MCM Cable Cutter.
---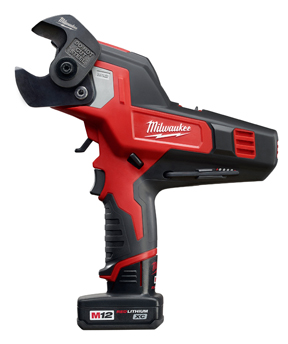 With a compact design and powerful cutting mechanism, this tool will eliminate two of the most difficult aspects of installations: fitting the cutting tool in panels/boxes and generating enough force to get the job done.
"Due to the cost of most cordless options, users have been forced to use hand tools that require a tremendous amount of force and can be extremely awkward to use in crowded panels," says Corey Dickert, senior product manager, Cordless for Milwaukee Electric Tool Corporation. "With an open jaw and a breakthrough powered ratcheting mechanism, Milwaukee delivers a tool that puts out over 5,000 pounds of force, fits into tight spaces, and simplifies one of the most difficult jobs an electrician, datacomm, utility, or service contractor faces."
With a 2-Speed gear case, the M12 600 MCM Cable Cutter delivers the power necessary to cut large cable, but also enables the user to switch into high speed and slice quickly through more frequent wires that are approximately 4/0 and lower. The M12 600 MCM Cable Cutter can cut through several wire types commonly encountered by the user such as copper, aluminum, SER cables, G-Type, paired communication cable, and underground cable. With up to a 600 MCM copper and 750 MCM aluminum capacity, the tool is applicable to virtually all large commercial projects, but has a compact size that will be ideal for service trades.
In addition, the tool will include the new Milwaukee 48-44-0410 Cable Cutter Blade, which can also be purchased separately as a replacement and the multi-voltage charger to allow users to charge all M12 and M18 batteries with one charger.