Panasonic Tough IP power tools
Panasonic Power Tool Division has expanded its line of Tough IP Li-Ion Cordless Power Tools.
---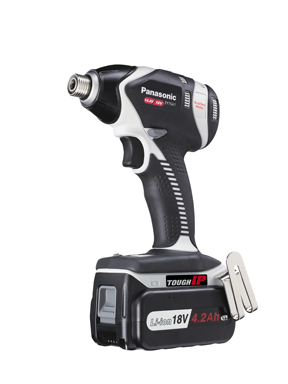 The Tough IP line now features products with new Dual Voltage Technology, allowing select tools to be used as both 18-volt and 14.4-volt with just a switch of the battery pack. Panasonic is currently the only power tool manufacturer to have this type of technology available, making it even easier for professionals to complete a variety of jobs using just one tool.
In order to utilize the Dual Voltage Technology, construction and maintenance professionals can easily swap out the Panasonic 4.2Ah LS Li-ion battery pack or existing 14.4-volt or 18-volt batteries to achieve the desired voltage – 18-volt for jobs that require longer runtime between charges and more power or 14.4-volt for jobs that require less runtime. The battery packs feature Panasonic's Solid Solution technology, a proprietary process for dissolving and hardening cobalt and nickel and other key battery components, and a special heat-resistant ceramic coating layer separates cells and protects them from heat buildup. Together, the chemistry, battery design and manufacturing process add up to High capacity batteries that deliver long life.
"Our top priority at Panasonic is to manufacturer the most innovative cordless power tools on the market in order to better serve our customers and help them do their jobs more accurately and efficiently while on a job site," said John Olson, Industrial Sales Manager, Panasonic Assembly Systems. "With the introduction of the Dual Voltage Technology to our Tough IP line, we are providing our customers with premium tools with multiple functions, but without adding more weight to their tool belts."