Parker High Pressure PTFE Hoses Handle Up to 5,500 PSI
The Parflex division of Parker Hannifin Corporation introduces High Pressure PTFE Hose Assemblies to handle high working pressures (up to 5,500 psi) while maintaining peak flow rates.
---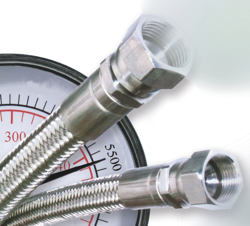 Parker 944B and 955B High PSI assemblies are manufactured with a heavy wall of PTFE that has excellent compatibility with a variety of media. The PTFE tube has a static dissipating liner that provides a path of continuity to the end fittings for applications where flow induced electrostatic charges could occur and potentially damage the hose assembly.The resilient PTFE tube is reinforced with braided SS 304 wire. Braiding, as opposed to spiraling, allows for better flexibility and a tighter bend radius in the finished hose while maintaining high continuous working pressures. The stainless steel wire braid also minimizes volumetric expansion in hydraulic service.
Parker 944B and 955B are available in sizes ranging from 1/4" up to 1" ID and handle temperature ranges between –65ºF up to 400ºF. Assemblies are supplied in lengths up to 25 feet with a carbon or stainless steel female JIC fitting on each end.