Pfannenberg industrial flashing sounders
Pfannenberg introduced PATROL Series PA X 5 – a new generation of 105 dB(A) industrial flashing sounders.
---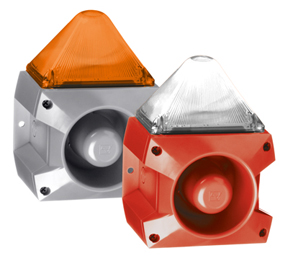 Flashing sounders fulfill numerous requirements for alarming individuals of hazardous situations or production problems in factories, water and waste treatment facilities, commercial offices, sports arenas, hotels, and other buildings as well as aboard ships.
Applications include: evacuation signals in the event of fire, toxic gas leak, or chemical spill; promoting safety around dangerous machinery by warning personnel and bystanders of impending startup or movement; improving product quality and minimizing waste by warning operators of functional problems with machinery; and alerting production technicians of process upsets due to out-of-tolerance manufacturing conditions. Flashing sounders are an ideal choice for industrial alarming to ensure notification of all individuals in the presence of background noise or lighting.