PFERD SGP Co-Strong-Freeze
The high-performance SGP CO-STRONG-FREEZE is designed to save work time on the most demanding grinding tasks.
---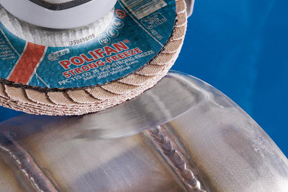 Following the patented extended flap length design of the original POLIFAN-STRONG line that set a milestone in steel grinding technology, the new POLIFAN-STRONG-FREEZE also features an innovative ceramic grit that guarantees ultra-cool grinding with maximum stock removal rate on stainless steel (INOX) and other materials with poor thermal properties while still maintaining an outstanding service life.
The extremely durable POLIFAN-STRONG-FREEZE is ideal for surface grinding work on weld seams. It is available in 4-1/2", 5" and 7" diameters and in grit sizes 36 and 50, and all offer maximum productivity due to fewer tool changes and set up times needed on tough jobs.