PFERD Co-Cool mounted ceramic flap wheel
Special grinding additives in the coating of the new CO-COOL mounted ceramic flap wheel from PFERD prevent clogging and allow aggressive, cool grinding on stainless steel and nickel based alloys.
---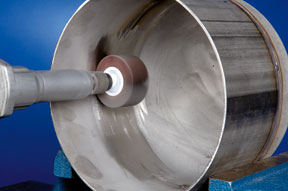 These added elements are embedded within the resinoid bond on the wheel's strong, flexible backing cloth flaps arranged radially about the tool axis. This fan type configuration gives high flexibility for grinding hard-to-reach surfaces in tank and processing equipment construction or for fine work on radii in tool, die and mold making applications.
The new CO-COOL ceramic oxide mounted flap wheels are available in three diameter/length configurations; 1" x 1", 1 1/2" x 1" and 2" x 1". They also offer four grit selections from 40 to 120. All have a 1/4" shank diameter. They join the broad line of PFERD mounted flap wheels including the Z-COOL with zirconia alumina grit plus a selection with silicon carbide abrasive for use on titanium and other tough alloys. PFERD also includes mini and standard sizes with alumina oxide A grit in their mounted flap wheel line.