Pferd Thin Cut-Off Wheels
The new 4-1/2", 5" and 6" x .045" thin T-SGP cut-off wheels outperform competitive wheels in cutting speed as well as service life.
---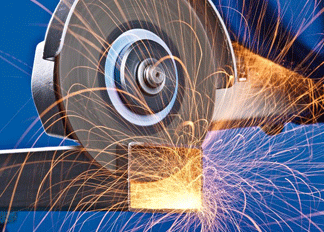 They are ideal for cutting sheet and tube stock in less time and with less burr formation. These flat (Type 1) wheels with 7/8" arbor hole meet the highest demands for efficient steel cutting applications, while offering excellent handling characteristics, such as low vibration and smooth, free cutting performance.
The addition of the popular .045" thickness rounds out a complete range of high performance PFERD cut-off wheels for Steel. The T-Hardness SG-PLUS wheels are available in 4-1/2" through 9" diameters, with thicknesses ranging from .040" for thin sheet and thin wall tube through 3/32" for universal cutting applications on all steel workpieces. Product selections include flat (Type 1) and depressed center (Type 27)
PFERD also manufactures cut-off wheels for Stainless Steel (INOX), Aluminum and non-ferrous metals, Titanium and exotic alloys, and more. All PFERD wheels feature an easy-to-follow color coding system to help operators select the optimum wheel and performance level for their workpiece material and application.