PFERD Whisper reinforced grinding wheels
The SGP WHISPER-ALU is the latest addition to the PFERD line of WHISPER reinforced grinding wheels that significantly reduce noise and vibration when compared to conventional grinding wheels.
---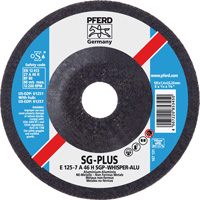 It features a patented design that allows it to grind aggressively on aluminum and non-ferrous metals and does not clog up. With no fillers, no unwanted residue is left on workpieces and ground surfaces can be welded immediately without further treatment.
With extremely high stock removal in a very short grinding time, the PFERD WHISPER-ALU also provides for soft, quiet grinding with lower vibration and greater working comfort to increase productivity and reduce labor costs. Suitable for use on angle grinders of all output levels, it is ideal for work on weld seams and for grinding surfaces and fillet welds.
WHISPER-ALU is available as a Type 27 depressed center wheel in 4 1/2" and 5" diameters with a 1/4" thickness. It is also available with a 7/8 unthreaded arbor hole or a 5/8 - 11 quick-change hub.