Powers Fasteners new C5 Trak-It Tool
Powers Fasteners introduces the new C5 Trak-It Tool, finally a gas tool that handles multiple applications in a variety of base materials.
---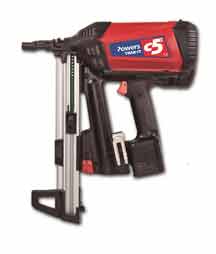 The new C5 gas powered tool from Powers does things that other gas tools can't, it is the only tool on the jobsite that can shoot .102, .120 and .145 diameter pins and delivers more power than the competition – 105 Joules!
This new high performance C5 Trak-It Tool is the smallest, lightest and most compact gas tool on the market at only 7.9 lbs. The easy swing trigger takes only 2.6 pounds of force to pull, these new design features helps reduce user fatigue. The battery shoots up to 3500 pins without recharging, the depth gauge enables the user to set depth of pin and can shoot deep track (2-1/2 inches). Operation of a gas fastening system does not require licensing.
Shoots 1/2" to 1-1/2" pins in diameter of .102, .120 and .145 shank
Smallest, lightest and most compact gas tool on the market at only 7.9 lbs.
More power than the completion – 105 Joules
Battery shoots up to 3500 pins without recharging
LED light indicates service requirement
Easy swing trigger takes only 2.6 pounds force to pull
Depth gauge enables user to set dept of pin
Stainless steel mesh filter keeps out concrete dust and debris
Can shoot deep track (2-1/2 inches)
No licensing required