Re-Grip handle grips
Re-Grip Inc. has created the ultimate solution to minimize safety risk and down time while adhering to OSHA recommendations.
---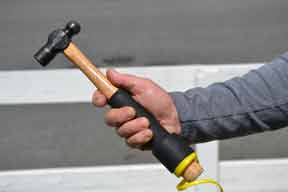 Re-Grip is a universal solution to applying a new handle grip. Significantly improving the few options on the market, Re-Grip uses strong, durable elastic material to provide mechanical and environmental protection while enhancing comfort for the user. It is ergonomic and reduces muscle fatigue while having non-slip properties for better control and safety.
Replacement grips are usually specific to a particular tool or application and difficult to install. This product can fit any handle that is cylindrical or semi-cylindrical. Its applications include tools like hammers and sledges, lawn and garden items like shovels and wheelbarrows, jackhammers and other pneumatic tools, industrial applications like levers and wrenches, everyday household items like brooms and brushes, and so much more. "Its versatility is what makes it so great" says John Vernieu, co-founder of Re-Grip Inc.
With its special patent pending design, Re-Grip is easy for anyone to install. The elastic grip is held extended by an inner coil, forming a tube that fits over the handle. The user simply pulls a tab at the bottom to unwind the coil, allowing the elastic grip to constrict around the handle. The entire process takes seconds.
Re-Grip is available in three sizes – with clearance of 1.3", 1.6" and 2.1" – for application with most types of handles. Length is seven inches but custom lengths are available.